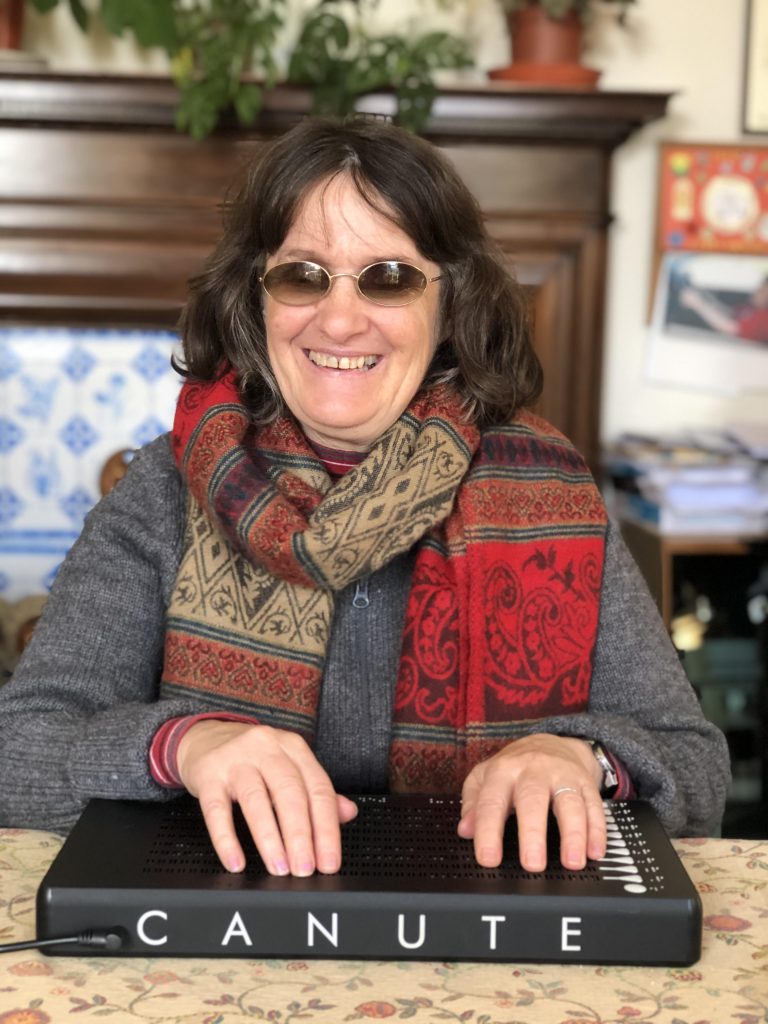 Welcome to Vision Through Sound
Vision Through Sound enables visually impaired people to live their lives more fully by learning to use smart phones, computer technology and the World Wide Web.
We will help you to use a phone or a computer for work and for pleasure – to browse the Internet, to send emails, to download files, to contact friends and family, to join online communities – in fact, whatever you need a computer to do for you, we will give you the confidence and the tools to make it happen.
We are working on 2 projects that are cutting edge technology, testing and developing them as well as providing training and support.
It is exciting to be involved with such brand new products. Below is a list of some of the gadgets we're training people to use.
CANUTE 360 LOW COST BRAILLE DISPLAY
The Canute is a braille e-book reader, the first multi-line Braille display in the world.
Bristol Braille Technology was awarded the top prize of $20,000 at the annual Dr Jacob Bolotin awards by the National Federation of the Blind!
We were recognised at the 2019 NFB Convention for our work in bringing the Canute 360 – the world's first multi-line Braille e-reader – to market.
The Canute can display text, maths, music and tables. For the first time in a digital device, Canute 360 can display any six-dot Braille code across its nine-line, 360 cell display. A Braille library can now be stored on a single USB stick or SD card in BRF or PEF format and read directly from the Canute 360.
We are proud to introduce the CANUTE 360 low-cost Braille display. Available to preorder NOW.
If you have any questions, live outside the UK, or would like a demonstration, you can get in touch with Bristol Braille Technology on +44117 325 3022 and enquiries@bristolbraille.co.uk. UK Customers can contact Techno-Vision on +441604 792777 and info@techno-vision.co.uk.
More information is also available on Bristol Braille's website at www.bristolbraille.org
Vision Through Sound will be providing technical support by phone for the Canute.
The following link shows a film about the Canute: Braille technology firm builds 'Kindle for the blind'
In Your Pocket – A Low Tech, Voice Operated Phone
In Your Pocket is a voice-operated, low-cost smartphone, providing easier access to thousands of talking books, daily newspapers and podcasts. It has the handy features we are all used to, such as a simple to use Sat Nav function and it is easy for the less technically able to use.
Imagine when you need to be able to see something in your surroundings, to be able to just say 'Be My Eyes' to your Pocket and it will connect the camera, microphone and speaker to one of the 90,000 volunteers in the UK who can then describe what it is you need to know about.
New services added this year include the addition of Torch Trust, meaning you can listen to free Christian literature, resources and services. Plus, there are now 100s of internet radio stations available on In Your Pocket too. Just tell Pocket what you wish to listen to by station, location or subject and it will list the appropriate stations for you to choose from.
We have received Lottery funding and funding from Waitrose in Bromsgrove, to provide a limited amount of training to expand the availability of the In Your Pocket phones.
Thanks to national lottery funding 5 phones can be rented out at half price, just £10 per month, for 3 months. Public landmarks can now be added using a new "locations" feature, and we are aiming at creating a national database using this method.
We have been given funding from Small Good Stuff to provide 25 hours of training on the In Your Pocket phone, or other digital solutions for the blind. To obtain this Covid safe training, contact me by email stephanie@visionthroughsound.co.uk or ring 07793906745.
We have also applied for further funding for the In Your Pocket Phones and if anyone would like to put their name on a waiting list you will be supplied as soon as possible. Contact me by email stephanie@visionthroughsound.co.uk or ring 07793906745.
Support In Your Pocket through the Co-op
We are delighted to announce that Vision Through Sound has been selected as of the Co-op's Local Communities Funds to raise money towards more In Your Pocket phones and training. You can support us by buying Co-op branded goods and selecting us as the cause you want to support either on the Co-op app using our individual cause number #55082 or by using this unique link:
https://membership.coop.co.uk/causes/55082
By selecting Vision Though Sound you will raise one penny in the pound every time you shop until October 2021. It's amazing how quickly your pennies add up.
Audio Signs for Shops
We have also spent lottery funding to install Bluetooth beacons in shops and public buildings. When messages are recorded on these beacons, they will speak as the blind person with the In Your Pocket phone passes that building. These can be heard in Bromsgrove and Barnt Green.
Enabling Project
We have recently visited Zambia to provide training there too.
Our work in Zambia has 2 strands, one is our connection with the Lions School for the Blind in Ndola. Their computer has now been upgraded so it works with the Braille embosser to provide Braille literature. 100 more Braille writing frames are on the way to Zambia so that every pupil has a means of making notes. We have sent out Perkins braillers and many Braille books.
There are 150 pupils there, previously they worked in pairs, with one pupil waiting for the other to finish. Now each pupil will have a frame to write on. Despite this, they teach to the 11th grade, and many pupils we met said they aim to progress to university, become teachers, politicians or lawyers!
The other strand is where we are in touch with a group of blind adults in a village, who are creative in making products that they can sell locally and on the internet. We are developing ways of marketing what they make with the help of two contacts in Zambia. They have now been purchasing baby chicks which the look after until they can be sold as chickens. When Steph was out in Zambiain 2019, she was able to set up two outlets to sell the baskets and mats which the villagers also make, therefore making them more self-sufficient. Additionally, they have asked for talking bibles in the Bemba dialect, so we have sent several, from www.megavoice.com
Pictures of our work with a blind community in Zambia can be seen here
Access to computer screens
Whatever your level of knowledge we will build on it. We can teach you about screen magnification and how to get the best from talking screenreaders like NVDA (Non Visual Desktop Access)
Visual Awareness Training
Vision Through Sound gives talks on visual awareness to help care providers and companies communicate with their clients and customers more effectively.
Guide Dog Speaking
Stephanie is a speaker, on behalf of the Guide Dogs for the Blind Association. This means she gives talks to any interested parties. The talks to school children also include a demonstration of the specialised equipment and picture Braille books that form part of her life and enable her to live independently and contribute to the lives of others. A popular part of the talk is meeting Steph's guide dog, Megan.